Aggregatore Risorse
K.Ey, start-up e giovani aziende green nell'Innovation Area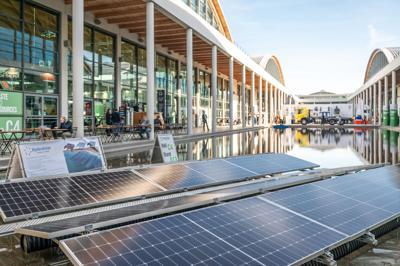 La transizione energetica incontra l'innovazione e approda a K.Ey - The Energy Transition Expo, la prima edizione autonoma dell'evento di Ieg (Italian Exhibition Group) di riferimento in Italia, Africa e bacino del Mediterraneo sulla transizione energetica, in programma alla fiera di Rimini dal 22 al 24 marzo. Sotto la cupola del quartiere fieristico, in corrispondenza dell'ingresso principale dalla Hall Sud, K.Ey prevede l'Innovation Square, un intero spazio espositivo fisico e virtuale, dove trenta Start-up e Scale-up green italiane e internazionali che offrono prodotti o servizi legati alla transizione energetica avranno l'opportunità di presentare le loro nuove tecnologie e idee più innovative.
La call ha raccolto numerose adesioni e la manifestazione di interesse da parte di oltre 60 Start-up e Pmi innovative impegnate nell'ambito della transizione energetica. Un successo che ha spinto l'organizzazione ad ampliare il numero di spazi disponibili in fiera fino a 30, rispetto ai 20 inizialmente previsti.
Con la Start-up and Scale-up Innovation Area K.Ey conferma il proprio ruolo di incubatore, facilitatore e piattaforma di riferimento per le giovani imprese e gli innovatori green nazionali e internazionali, dove incontrare aziende e investitori e sviluppare nuovi progetti e business sostenibili, cogliendo l'opportunità di lanciare il proprio brand all'interno della manifestazione di riferimento per il mondo delle energie rinnovabili e dell'efficienza energetica nel bacino del Mediterraneo. L'iniziativa è organizzata da Italian Exhibition Group, promossa in collaborazione con Italian Trade Agency e ha come main partner Art-Er (Attrattività Ricerca Territorio), Società Consortile dell'Emilia-Romagna.
Delle 30 Start-up selezionate, 26 sono italiane, provenienti da Lombardia, Piemonte, Toscana, Marche, Emilia Romagna, Puglia, Abruzzo, Friuli Venezia Giulia, e 4 estere: 2 dalla Francia, 1 dal Regno Unito e 1 dai Paesi Bassi. Presidiano diversi comparti, tra cui fotovoltaico, storage e solare, tecnologie per l'eolico, idrogeno, efficienza energetica, e-Mobility e Iot - digitalizzazione, con piattaforme per unire le comunità di energia rinnovabile, soluzioni di trasformazione digitale per l'industria delle costruzioni, system integrator nel settore nautico per le imbarcazioni elettriche, impianti innovativi e system integrator nella produzione di idrogeno, SaaS per analisi energetiche e coaching per la riduzione dei consumi di energia e delle emissioni di carbonio.
Sono presenti produttori di turbine eoliche aviotrasportate (Awe) per le popolazioni off-grid; produttori di batterie stazionarie di lunga durata, sostenibili e riciclabili; sviluppatori di batterie termiche per il recupero del calore di scarto; società di ingegneria meccatronica che forniscono soluzioni innovative per i settori navale e automobilistico; società di ingegneria specializzata in progetti di decarbonizzazione industriale, oltre ad aziende impegnate nel settore dell'internet of things, nella consulenza e nel supporto alle organizzazioni per la decarbonizzazione dei loro processi.